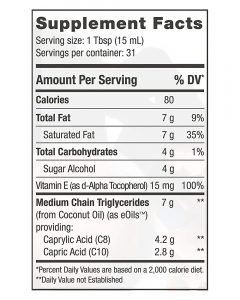 There's no denying that MCT is one of the most beneficial supplements available in the arsenal of a Keto-adapted individual. Fortunately, these benefits of these healthy fats can be obtained no matter what part of your Ketogenic lifestyle shift you may be in. Instead of suffering through another morning of coffee and butter, consider trying a healthier and tastier approach with Upgrade MCT Creamer from Project Keto.
Upgrade MCT Creamer comes in two unique flavor options that make them a perfect complement to a good Keto-friendly breakfast. These flavors currently include both Natural Cinnamon Roll and Natural French Vanilla with no artificial colors, sweeteners or flavors added to the formula. Because this creamer was formulated as a dairy-free option, it not only cuts unnecessary carbs for a Ketogenic diet but also gluten-free and vegan-friendly. Upgrade MCT Creamer is made from emulsified, easily digested MCTs from 100% Non-GMO Coconut Oil with the perfect ratio of MCTs to support and enhance your Keto lifestyle.
Project Keto was formed as a result of careful planning and a long search for not only the best ingredients but also an FDA registered, NSF cGMP facility to carry out the manufacturing of products. Project Keto has made it its mission to provide the cleanest products possible with a focus on tested and effective formula ratios to support or enhance a Keto lifestyle. For even more convenience, Project Keto also offers Coffee Pods that can be used with Keurig machines as well as other accommodating models that are available on the market. Some of the results you can expect from Upgrade MCT Creamer include:
May Support Cognitive Function
May Sustain Fat Burning
May Improve Energy
May Boost Immunity
May Enhance Workouts
If you are looking for an easy way to up your fat intake daily or start your morning with MCTs, Upgrade MCT Creamer from Project Keto was made with you in mind. Upgrade Keto Creamer can be added to salads, shakes, yogurt or coffee for an immediate boost of healthy fats that your body can use quickly for energy if you are Keto-adapted. Don't choke down butter coffee just to have the fats when you can enjoy your morning routine instead with Upgrade MCT Creamer!
Keto Burn is a participant in the Amazon Services LLC Associates Program, an affiliate advertising program designed to provide a means for sites to earn advertising fees by advertising and linking to amazon.com