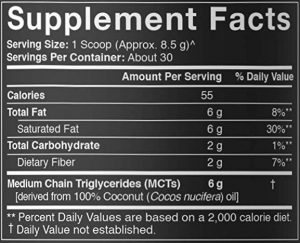 If you've spent any amount of time following a Keto diet, there's a good chance that you have heard of MCT oil and the benefits that this popular supplement provides. However, the quality of the MCT oil supplement you choose will play a direct role in the support it provides to you on a daily basis. If you are looking for a great MCT Oil Powder, the team at Sports Research® created this product just for you!
Sports Research® MCT Oil Powder allows you to add energy-packed fatty acids and additional soluble fiber to your nutritional intake effortlessly. Unlike traditional MCT oil supplements, this product includes prebiotic acacia to ensure it's easy on the gut. This, in turn, helps eliminate the chances of stomach discomfort or intestinal issues that are commonly associated with the initial intake of MCT oil.
Because it has a neutral taste, Sports Research® MCT Oil Powder can easily be added to any drink for an added serving of energy-dense fats. Easy mixability and convenient dosing means that you aren't stuck just having your MCT oil with coffee. Now you can mix it with your protein shake or any other drink throughout the day for a steady fuel source whenever it may be needed.
Sports Research® MCT Oil Powder contains nearly 75% MCT per scoop, making it one of the highest delivery amounts of any brands currently on the market. If you are looking for a high-quality MCT supplement to improve your nutritional plan, Sports Research® MCT Oil Powder is the perfect fit. Some of the results you can expect from MCT oil powder include:
May Promote Ketosis to Enhance Fat Loss
May Improve Brain Function
May Decrease Cravings
May Provide Clean Energy
Whether you are just beginning the Keto diet and need help transitioning into ketosis or you have already entered ketosis and are struggling to find energy to workout or make it through the day, MCTs are the energy source you have been searching for. Sports Research® MCT Oil Powder is Non-GMO Project Verified, Certified Keto and Vegan Certified, making it perfect for any healthy food plan. Ready to enhance your Keto diet? Start incorporating MCT oil today!
If you want more info on MCT's and how they can benefit those on a keto diet read this article on our website.
Keto Burn is a participant in the Amazon Services LLC Associates Program, an affiliate advertising program designed to provide a means for sites to earn advertising fees by advertising and linking to amazon.com.