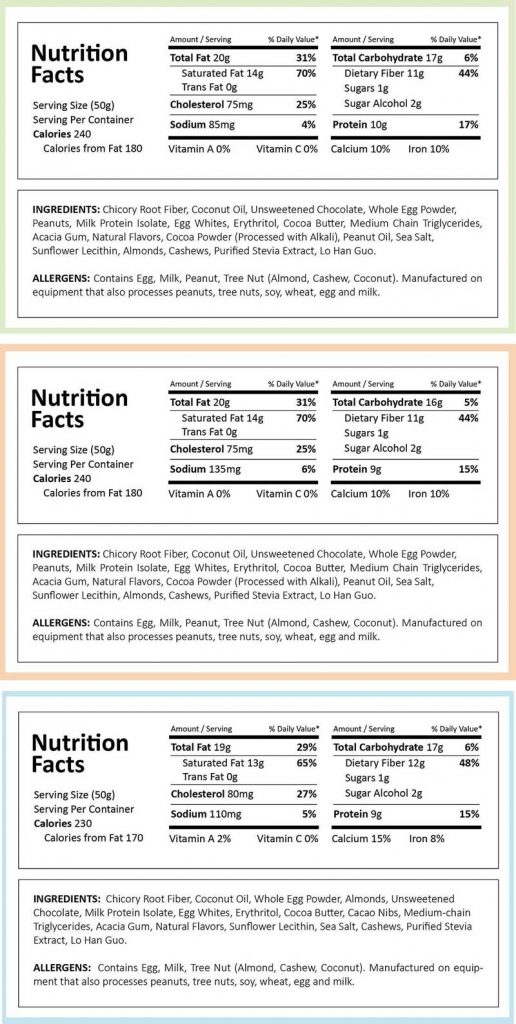 One of the hardest things to find on the Keto diet is a meal replacement bar that not only tastes great but keeps you full throughout the day. While you have options like Quest Bars that have developed a cult following, they often contain too much protein to correctly benefit a Ketogenic diet. With this in mind, what if there was a better option available that contained the appropriate macros to benefit your lifestyle and help maintain a state of ketosis?
Kiss My Keto Bars contain 3g net carbs, 20g of fat and 9g of protein per serving to help give your body the correct macros to sustain ketosis all day long and turn your body into a fat-burning machine. Whether used as a snack or as a meal replacement, you can rest easy knowing you are receiving a great tasting product that won't hinder your progress. Kiss My Keto Bars also come in 3 great-tasting flavors to ensure you have the variety needed to avoid burnout.
The primary ingredients of Kiss My Keto Bars include MCTs, whole egg powder, chicory root fiber, prebiotic dietary tapioca fiber and cacao nibs. By using high-quality MCTs in the formula, Kiss My Keto has created a product that can easily be converted to energy by the body with just the right amount of protein to provide extended satiety. Some of the results you can expect from Kiss My Keto Bars include:
May Provide Appetite Support
May Improve Energy Levels
May Boost Nutritional Ketosis
May Promote Fat Loss
If you are looking for a great Keto-approved nutritional bar to make your snacks or meal replacement options more enjoyable, we encourage you to try the Kiss My Keto Bars. With both a variety pack that contains all three flavors and individual flavor options, you are sure to find the perfect option for your unique tastes. Keto-friendly snacks that taste great can be hard to find, with Kiss My Keto bars you have three great new options!
Keto Burn is a participant in the Amazon Services LLC Associates Program, an affiliate advertising program designed to provide a means for sites to earn advertising fees by advertising and linking to amazon.com.