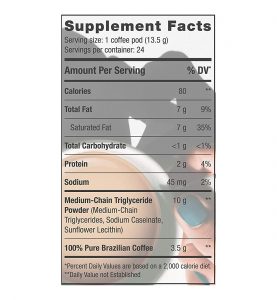 If you are like most people, you can't start your day without first having a nice cup of coffee. Unfortunately, if you are following a Ketogenic lifestyle, you may not be able to doctor up coffee with sugar and cream to your liking. But what if there was an all-in-one option that not only tastes great but also further benefits your diet with tested and proven ingredients? Project Keto UPGRADE Coffee Pods are 100% Pure Brazilian Roast coffee that has been conveniently paired with the perfect ratio of MCTs to help make getting your morning coffee easier than ever when maintaining a Keto lifestyle.
UPGRADE Coffee Pods from Project Keto were developed to be used in any Keurig 2.0 coffee system. As a new and innovative take on traditional Keurig pods, UPGRADE Coffee Pods combine delicious Pure Brazilian Roast coffee grounds with 7g MCTs per serving. This means that you can keep your energy levels sustained while eliminating the common crash that comes with other caffeine-heavy products. Since keto-adapted individuals rely on fat sources for energy, this MCT can be used immediately by the body.
For those looking to increase their fat intake even more, UPGRADE Coffee Pods can be paired with UPGRADE Emulsified MCT Creamer to incorporate another 3.5-7g of fat from Non-GMO coconuts. As a bonus you can also choose from 2 great creamer flavors to further personalize your experience with the products and find the right level of flavor to meet your unique goals. Some of the benefits you may expect from UPGRADE Coffee Pods include:
May Improve Energy
May Support Cognitive Function
May Enhance Fat Burning
May Strengthen Immunity
Don't settle for boring coffee just because you are following a Ketogenic diet. With UPGRADE Coffee Pods, high-quality coffee with MCTs is just the push of a button away. At Keto Burn, we are adamant about finding products that are not only convenient and effective but also enjoyable. Try these coffee pods to see why they have become so popular with us and countless other Keto-adapted individuals!
Keto Burn is a participant in the Amazon Services LLC Associates Program, an affiliate advertising program designed to provide a means for sites to earn advertising fees by advertising and linking to amazon.com