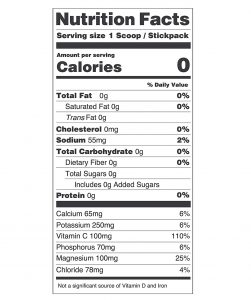 While following a Ketogenic diet, it is not uncommon for your body to expel water and increase the chances of dehydration. Unfortunately, most people don't enjoy drinking just water and many of the water flavoring options contain additives that may hinder your weight loss progress. As an alternative to other electrolyte enhancing powders or drinks available on the market, Ultima Replenisher contains 6 unique electrolytes in the form of support minerals needed for rehydrating to prevent muscle cramps or headaches.
With 0g of calories, sugar or carbs per serving, Ultima Replenisher is a perfect addition to any Keto diet. It is important to remember that each individual has different hydration needs and there may be no one-size-fits-all solution to replenishing water within the body. With these easy-to-mix powder packets, you can actually enjoy your water and receive extended support at the same time to further improve hydration with electrolytes. For the best results, consume Ultima Replenish as an intra-workout supplement during exercise sets and after an intense activity has been completed to replace sweat that was lost.
Clean hydration is critical for a good experience while following a Keto diet. While many other commercial options are loaded with sugar or other hidden carbs, Ultima gives you all of the benefits you expect without the added calories or sugar. Aside from being Keto-friendly, Ultima Replenisher is also caffeine-free, gluten-free, vegan, non-GMO and paleo-friendly. Some of the benefits you may expect from Ultima Replenisher include:
May Improve Hydration
May Prevent Muscle Cramps
May Relieve Headaches
May Alleviate Hangover Symptoms
May Lessen Travel Fatigue
If you need help with hydration, don't reach for a drink or supplement option that will derail your progress or kick you out of ketosis. With 5 great flavor options, Ultima is sure to have one that you will love no matter what your tastes may be. Try it today to see why the team at Keto Burn recommends it for anyone following a Keto diet that needs help Improving their water intake.
Keto Burn is a participant in the Amazon Services LLC Associates Program, an affiliate advertising program designed to provide a means for sites to earn advertising fees by advertising and linking to amazon.com