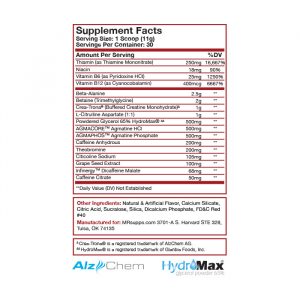 When starting a Ketogenic diet, it can be hard to find the energy needed to power through your workouts. While many athletes will consume sugary energy drinks to kickstart their body, finding the appropriate supplement that provides clean energy can be a challenge. If you are looking for a sugar-free pre-workout supplement to help power through your workouts, Pump Juice Extreme is the keto supplement you have been looking for.
As one of the pioneers of the bodybuilding supplement industry, Muscle Research knows nothing beats the feeling of getting a great pump in the gym that allows your muscles to swell and give you instant gratification. To achieve this, pump juice was scientifically formulated with ingredients like Beta-Alanine, Betaine and L-Citrulline Aspartate to give its user the ultimate pump. By using sucralose as an artificial sweetener, you can be sure that you are staying true to your Ketogenic diet while retaining the great taste you expect from a pre-workout supplement.
Because the formula of Pump Juice Extreme was created with the input of actual users in mind, you can be sure that the ingredients combine to make the best pre-workout on the market. The bodybuilding community asked and Muscle Researched answered. Even better than the original Pump Juice Extreme, this new and improved formula is packed with powerful ingredients designed to give you even more extreme energy and pumps than before!
Every time you visit the gym, you likely want to ensure that you are making the most of your limited amount of time there. This is true even if you are performing a workout at home. Pump Juice Extreme can be consumed 30 minutes prior to a workout or any strenuous activity to allow for more intensity and increased performance. Some of the results you can expect from Pump Juice Extreme include:
• May Increase Blood Flow
• May Improve Energy and Concentration
• May Improve Overall Muscle Mass
• May Improve Stamina and Performance and Endurance
• May Reduce Fatigue and Recovery Time
• May Improve Libido
• May Boost Immune System Function
Ditch the sugary energy drinks and see how a clean energy supplement like Pump Juice Extreme can benefit your Ketogenic diet. With 30 servings per container, this Keto-friendly pre-workout supplement not only tastes great but provides the energy needed to ensure you are achieving your fitness goals while still staying true to your keto diet. Even if you are currently using a different pre-workout supplement, it won't give you the extreme energy or awesome pumps that Pump Juice Extreme will!