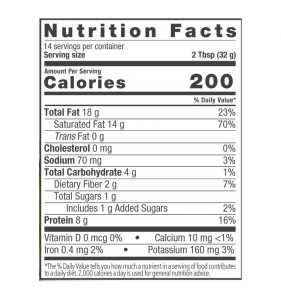 Finding a great peanut butter option on a Keto diet can seem like a challenge because of the excessive amounts of fat that are found in most commercial options. It can be even harder if you are looking for an option that is Non-GMO or specific to other dietary restrictions like gluten-free or soy-free. To help fulfill this need and further improve the peanut butter options available when following a Ketogenic diet, Project Keto developed MIGHTYFAT MCT Peanut Butter.
With just 2g of net carbs per serving, MIGHTYFAT MCT Peanut Butter is undoubtedly one of the most accommodating peanut butter options available for anyone looking to cut carbs while still increasing their fat intake. Instead of relying on sugar to improve the flavor of this peanut butter, Project Keto instead utilized 100% Non-GMO Coconut Oil with the perfect ratio of MCTs to provide extended support.
As a versatile fuel source, peanut butter has had a long history of uses. With MIGHTYFACT MCT Peanut Butter you can make fat bombs, pair it with your favorite Keto desserts or enjoy it straight from a spoon. One of the biggest benefits of having a project like MIGHTYFAT MCT Peanut Butter on hand is that it could potentially satiate sugar cravings. Much like typical peanut butter, the options are endless and will come down to your personal preferences on how best to incorporate it into your diet. Some of the benefits you may expect from MIGHTYFAT MCT Peanut Butter include:
May Improve Energy
May Support Cognitive Function
May Enhance Fat Burning
May Strengthen Immunity
If you are tired of wrecking your nutritional intake by using store-bought peanut butter that is loaded with sugar, MIGHTYFAT MCT Peanut Butter was created for you! Now you can still have the delicious treat of traditional peanut butter with the added fat from MCTs to further benefit your weight loss goals. This is a true Keto nut butter and we are confident you won't find a more suitable replacement for the tub in your pantry anywhere else!
Keto Burn is a participant in the Amazon Services LLC Associates Program, an affiliate advertising program designed to provide a means for sites to earn advertising fees by advertising and linking to amazon.com