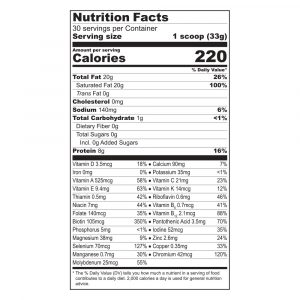 In a market full of Keto-friendly products that don't actually provide the right nutrient ratios to encourage or enhance ketosis, KetoMed set out to make a product that was different. KetoMed was developed as the first Ketogenic dietary food supplement to benefit your lifestyle by providing the most complete formula available developed with therapeutic Keto beliefs to not only establish ketosis but sustain it. Instead of taking the approach most of developing a standard protein powder and labeling it as Keto, KetoMed was designed to break the mold and create a new gold standard for this growing segment of the nutritional products market.
KetoMed was carefully formulated for both clinical use and fat loss support while maintaining a Ketogenic lifestyle. Unlike other products labeled keto-friendly, this product was created to provide more effective results on a Ketogenic Diet for chronic conditions like candida or fungal infections, Alzheimer's, epilepsy, Parkinson's and even anxiety. By using researched ingredients that are backed by science, KetoMed is the most complete Ketogenic food supplement you will find. But what makes KetoMed so effective?
Unlike other keto-friendly products that focus on low-carb, grain-free protein powders to encourage satiety, KetoMed delivers 75% of its calories from high-quality MCT sources. Because excessive protein can kick you out of ketosis, the KetoMed formula only derives 15% of its calories from hormone and antibiotic-free, clean protein. As an added measure, the formula also includes 24 vitamin and mineral nutrients that are typically lacking on a strict ketogenic diet.
Following a Ketogenic diet shouldn't be a struggle. Instead of meticulously counting your carbs and browsing every nutritional label you come across, try supplementing your meal plan with KetoMed for an enjoyable and satiating experience that will help you feel fuller, longer. Even better, you won't have to worry if you are hitting your macros since each scoop provides the exact ratios needed to keep you in a state of nutritional ketosis. Some of the results you can expect from KetoMed include:
• May promote nutritional ketosis
• May increase satiety between meals
• May help with chronic illnesses
• May improve candida/fungal infections
KetoMed is designed and intended to be used as a ketogenic meal replacement in conjunction with a healthy whole food meal program. As a Ketogenic dietary food supplement, the product is packaged to provide a full month's worth of support when used according to the label's directions. With this in mind, KetoMed also has a Preferred Delivery subscription option that allows you to get this great Ketogenic meal replacement delivered to your door every month.