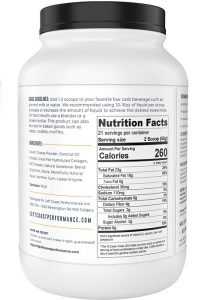 While many people turn to protein shakes on Keto to fill in their nutritional intake, the extra protein that they are consuming could be kicking them out of ketosis. As an alternative to protein-heavy shake options that have flooded the market, Left Coast Performance created Keto Shake Cheesecake as a high-fat and low-carb meal replacement option for a quick and satisfying meal. Anyone looking for a one product shake to crush cravings will love the flavor and nutritional profile that this shake offers!
Keto Shake Cheesecake was developed to provide MCTs quickly to provide energy while also containing enough fat to aid in maintaining ketosis. To achieve a great flavor that tastes just like cheesecake, Left Coast Performance utilizes cream cheese powder to create an unparalleled flavor unmatched by other products on the market. With just 2 grams of net carbs per serving, this keto meal replacement tastes so great you won't miss lunch or your dessert.
When following a Ketogenic diet, several distinct ingredients can help provide optimal support to not only induce ketosis but deepen the level of ketosis reached to improve weight loss further. These ingredients include MCTs, Collagen peptides, lipase digestive enzyme and coconut oil powder. Keto Shake Cheesecake combines all of these ingredients and more to provide 23g of fat per serving. Some of the benefits you may expect from Keto Shake Cheesecake include:
May Decrease Cravings
May Provide Clean Energy
May Promote Ketosis to Enhance Fat Loss
May Improve Brain Function
May Increase Satiety Between Meals
If you are looking for a keto-friendly meal replacement to meet your busy schedule or just need a better option to cut cravings for sugar or dessert, Keto Shake Cheesecake from Left Coast Performance was created with you in mind. Don't settle for protein powders that are hurting your weight loss, this meal replacement option was created to be the ultimate ketogenic shake on the market.
If you want more info on MCTs and how they can benefit those on a Keto diet read this article on our website.
Keto Burn is a participant in the Amazon Services LLC Associates Program, an affiliate advertising program designed to provide a means for sites to earn advertising fees by advertising and linking to amazon.com