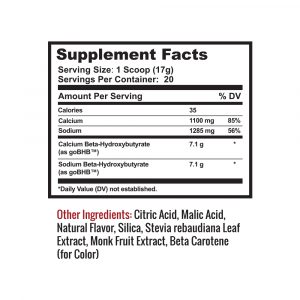 What's in your Keto supplements? If you aren't utilizing BHBs, you likely aren't getting the support needed to make the most of your nutritional ketosis and improve the amount of fat loss you could be. While giving your body the right foods at the right time is important, you may be looking for a way to crush your goals without hindering the results a ketogenic diet provides. As one of the first groundbreaking keto supplements available, Keto Salt from Muscle Research has continued to make an impact among the most dedicated keto-adapted athletes.
Keto Salt functions as an alternative energy source for anyone that is currently in a fasted or nutritional ketosis state. As the body adapts to a ketogenic diet, it begins using ketones for energy that are broken down from fat instead of sugars or glycogen that comes from carbohydrate sources. By utilizing BHB, or Beta-Hydroxybutyrate, Keto Salt provides the body with immediately usable ketones that can quickly be converted to energy. Keto Salt was designed to provide your body immediate energy like a pre-workout without the harmful stimulants for anyone currently in nutritional ketosis.
Keto-adapted athletes are generally very conscious about what goes into their body and may even review a new product's nutritional facts panel before ingesting a product. For this reason, Muscle Research created Keto Salt using only natural flavors and Stevia as a naturally-occurring, zero calorie sweetener. These ingredients not only keep your diet on track, but they also taste great too! We are confident you won't find a better tasting exogenous ketone supplement anywhere else.
Healthy adults who are overweight, dieting or trying to get rid of excess fat through a ketogenic diet should supplement with Keto Salt. Ketogenic Athletes or Bodybuilders who are interested in slimming down quickly for an event or competition may also benefit from quicker ketosis transition times to shed water weight as well as increased energy from exogenous ketone supplementation. Some of the results you can expect from Keto Salt include:
• May Promote Weight Loss
• May Provide Appetite Suppression
• May Promote Increased Physical Performance
• May Provide Anti-Inflammatory Support
• May Improve Cognition
• May Alleviate Lethargy and Fatigue
• Available in three amazing flavors
Stop wasting your money on bad-tasting keto supplements when you can achieve great results and enjoy your supplements with Keto Salt. With three unique flavors that all taste great, you are sure to find your favorite. For a limited time, all orders will receive FREE domestic shipping in the United States. Ready to get started? Let's crush your Keto goals together!