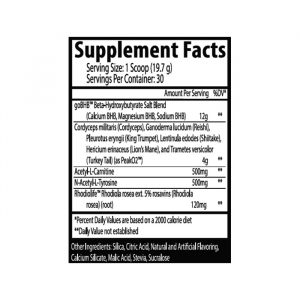 MPA KETOxygen™ was formulated to be different from the other exogenous ketone supplements currently available on the market. Not only does it contain the highest percentage of BHB salts on the market, but it also combines other valuable ingredients that provide increased endurance, clean energy, mental clarity and neurogenesis. Although most exogeneous ketone products make bold claims that they will help promote fat loss while following a Ketogenic diet, KETOxygen™ doesn't make these bold claims.
Unlike most modern BHB supplements that only provide a small number of ketone bodies mixed into a pre-workout formula or whey protein powder, KETOxygen™ adds 10 to 11 grams of BHB in each serving. Not only does this ensure you are getting the optimal support from your exogenous ketone supplement, but you also benefit from the other great ingredients included in the formula like Acetyl-L-Carnitine, Acetyl-L-Tyrosine, an organic mushroom complex and Rhodiola. You won't find a more complete exogenous ketone supplement on the market!
Although KETO Oxygen  won't directly contribute to fat-loss, it does help in other ways. By supplying Keto-adapted athletes with an alternative clean energy source that can be used immediately by both the body and the brain, this product makes physical activity much easier while simplifying mentally demanding tasks. However, there are many other great benefits that can be achieved by adding KETOxygen™ to your supplement routine.
According to recent research, exogenous ketones can also increase metabolic efficiency to provide greater out and stamina during a workout while limiting the ATP requirements for working muscles. Furthermore, exogenous ketones like those found in KETO Oxygen may provide a satiating effect during fasting periods to make dieting far more tolerable. Some of the results you can expect from KETO Oxygen include:
• May Provide Clean Energy
• May Promote Increased Physical Performance
• May Provide Appetite Suppression
• May Improve Cognition
• May Alleviate Lethargy and Fatigue
Don't settle for untrue claims when searching for your perfect exogenous ketone supplement. KETOxygen™ is the perfect supplement to help you adjust to any type of HIIT, endurance training, weight training or anything in between. If you are performing exercise that will inevitably cause physical stress or run down your body, this is the perfect product for you. For a limited time, all orders will receive FREE domestic shipping in the United States.
Keto Burn is a participant in the Amazon Services LLC Associates Program, an affiliate advertising program designed to provide a means for sites to earn advertising fees by advertising and linking to amazon.com