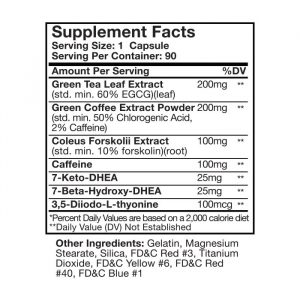 While a Ketogenic diet is great for dropping fat quickly and achieving your fitness goals, there will ultimately come a time when you hit a plateau. As one of the most popular fat burning keto supplements available, Keto Burn is formulated to target that hard to burn, last to go and just can't get rid of fat. Keto Burn is safe for both men and women and isn't packed full of stimulants. So, you won't experience the inevitable crash or crazy jitters that accompany most modern fat burners.
Modeled after the extremely popular product Lean Xtreme™, Keto Burn is formulated with natural ingredients like Green Tea Leaf and Green Coffee Extracts. These ingredients have been proven during countless studies to burn fat, regulate metabolism, help lower cortisol and increase lean muscle mass. This makes the formula very compatible with a Ketogenic diet for anyone that needs a little extra support getting through a weight loss plateau and the scale isn't moving much.
Lowing cortisol levels is critical for anyone that attempting to lose weight.
Over time, cortisol has been linked to stress because it is actively secreted in high levels in the body during a fight or flight response. Lowering Cortisol levels and maintaining a healthy thyroid is essential to burning that last bit of troublesome belly fat! This is why we designed KetoBurn to lower cortisol levels, giving it a remarkable edge on traditional fat burners.
Healthy adults who are overweight, dieting, or trying to get rid of that last little bit of annoying belly fat should supplement with Keto Burn.
While Keto Burn can be taken at any point throughout your Ketogenic diet whenever additional assistance may be needed; however, taking it closer to your goal weight will likely yield the best results. Some of the results you can expect from Keto Burn include:
• May Promote Weight Loss
• May Provide Appetite Suppression
• May Promote Increased Physical Performance
• May Provide Anti-Inflammatory Support
• May Improve Cognition
• May Alleviate Lethargy and Fatigue
Finding the right fat burner for your unique needs can be a challenge. In a market dominated by stimulant-loaded products, we have designed something truly unique to fit the needs of Keto-adapted athletes. If you need help getting rid of that last bit of belly fat, try Keto Burn today. For a limited time, all orders will receive FREE domestic shipping in the United States. Get the support you need to crush your Ketogenic diet with Keto Burn!
Lean Xtreme™ is a trademark of Driven Sports. All other trademarks, trade names or company names referenced herein are used for identification purposes only and are the property of their respective owners.