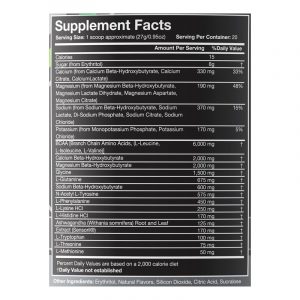 Finding the right supplement to assist you throughout your workouts can be a challenge if you are restricting carbohydrates. While most supplements opt for a sugary drink to replenish glycogen to help you power through workouts, anyone following a ketogenic diet knows how important it is to restrict these ingredients. Whether you're generally restricting carbohydrates for a ketogenic diet or simply prefer a lighter, carb-free intra-workout recovery drink, Granite Supplements created Intra Keto, a low-carb, ketone- enriched version of their popular supplement Recovery.
Intra Keto not only provides the recovery and performance perks associated with the ingestion of electrolytes and essential amino acids, but it also replaces carbohydrates with BHB, or Beta-Hydroxybutyrate, to provide readily usable ketones for energy whenever they are needed. This ensures you have a complete formula designed to help you power through your hardest workouts while maintaining a ketogenic lifestyle. If you are struggling to find energy and don't want to use a pre-workout to successfully achieve your fitness goals, this is the product you have been searching for.
Unlike other exogenous ketone products, Intra Keto expands upon entry-level doses to supply additional ketone bodies and MCTs that are coveted in modern keto supplements. In addition to BHBs, IntraKeto also provides additional amino acids that are blended to promote anabolism and anti-catabolism to assist in muscle growth and limit muscle waste when following a ketogenic diet. With one of the most complete Ketogenic formulas available on the market for Intraworkout support, we are confident you will love the results this keto supplement provides. Some of the results you can expect from IntraKeto include:
• May Promote Muscle Growth while in Nutritional Ketosis
• May Decrease Muscle Loss while in Nutritional Ketosis
• May Increase Energy
• May Promote Ketosis Faster
• May Trigger Protein Anabolism
If you are looking for a great Intraworkout formula that was designed specifically for keto-adapted athletes, IntraKeto was designed just for you. With a great fruit burst flavor and an extensive list of benefits, IntraKeto has become one of the most popular keto supplements on the market. Try it today to see why it has become so popular! Don't settle for less when you don't have to. Add IntraKeto to your supplements for extended support to crush your Keto goals.
Keto Burn is a participant in the Amazon Services LLC Associates Program, an affiliate advertising program designed to provide a means for sites to earn advertising fees by advertising and linking to amazon.com