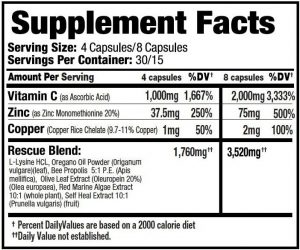 While the Keto diet has shown promising immunity results within the body, some people that follow the diet may not be eating the right foods to ensure their body has the nutrients needed to fight off common colds or infections. This is particularly true for the individuals that decide to pursue a "junk food" Keto approach that includes a lot of fast food burgers with no buns. To help make building your immune system easier while also working to provide the body with proven immunity ingredients, Immune Support Formula is a great product no matter what dietary choices a person may make.
Immune Support Formula combines the most effective and purest ingredients possible to create a 100% all-natural immune system booster that may even help the body fight cold sores, shingles or herpes. With this kind of support, it's no wonder why so many people have trusted Immune Support Formula to speed their healing processes and regulate their immune system to better fight off common sickness. Now, these natural ingredients are being adopted by the Keto-faithful for the extended support they provide in the pursuit of a healthy lifestyle.
As a maximum strength product, Immune Support Formula combines studied immune-boosting ingredients like Zinc, Vitamin C and Lysine with other unique ingredients like Prunella Vulgaris, Red Marine Algae, Olive Leaf Extract, Oregano Oil and Bee Propolis. As an added level of safety, each capsule is manufactured in a cGMP compliant and FDA approved facility right here in the United States. Some of the benefits you can expect from Immune Support Formula include:
May Strengthen the Immune System
May Speed Healing and Prevent Immune Down-Regulation
May Aid in Eliminating Cold Sores. Herpes Sores or Shingles
May Protect Against Viruses, Bacteria and Fungus
May Provide Antioxidant and Anti-Inflammatory Benefits
If you are looking for an easy way to enhance your immune response, Immune Support Formula was developed with you in mind. With a complete list of advanced immune support ingredients, we are confident that anyone on a Ketogenic diet will benefit from the advanced support this product provides. Don't let the common cold or other immune system viruses hold you back from meeting your nutritional goals. Add Immune Support Formula to your Keto supplements to ensure your body's immune system is functioning at peak levels every day.
Keto Burn is a participant in the Amazon Services LLC Associates Program, an affiliate advertising program designed to provide a means for sites to earn advertising fees by advertising and linking to amazon.com