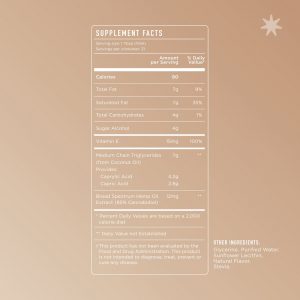 It's no secret that the CBD and Keto Industries are growing at the same incredibly rate. However, it was only a matter of time before the benefits of each began to spill over into each other. Perhaps the most perfect example of a complete product that utilizes both CBD and MCT oil is Brio Nutrition Creamer. Formulated with a natural vanilla flavor, this non-dairy creamer is a great way to get your day started.
Each bottle of Creamer by Brio Nutrition has a convenient measuring cup built into the cap to allow for easy dosage with each cup of coffee that you have. While this creamer is both Keto-friendly and vegan, the benefits don't end there. Unlike other traditional creamers that are loaded with sugars, the unique formula developed by Brio Nutrition only contains 80 calories per serving.
Founded primarily as a CBD product line, Brio Nutrition strives to only source the highest-quality CBD that is both naturally extracted and plant-based with zero THC content. By working with a world-renowned nutraceutical manufacturer, this commitment to quality also extends the MCT oil that is included in the creamer. If you are following a Keto lifestyle and are curious if CBD is right for you, this product is a great starter option.
All Brio Nutrition products are 3rd party tested to ensure the highest quality possible and full transparency. Brio Nutrition also includes a QR code on all products to give you access to our certificate of analysis which shows the results of those tests. Some of the results you can expect from Creamer include:
May Provide Natural Energy and Focus
May Improve Appetite Control
May Relieve Pain
May Reduce Anxiety and Depression Symptoms
There has never been a better time to start incorporating CBD into your nutraceutical products when following a Ketogenic diet. As the industry continues to evolve and more studies begin to show the positive results cannabinoids can provide, it is likely that the Keto market will begin seeing more innovative products like Brio Nutrition's Creamer. If you are looking for a better way to enhance your morning coffee, this is the product that you have been waiting for!