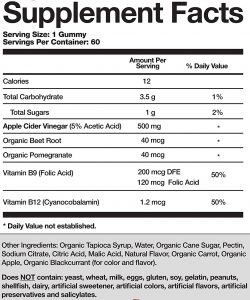 While taking apple cider vinegar shots and the Ketogenic have never historically been synonymous, many people are beginning to combine these approaches to prime their body for increased weight loss. And, although no documented evidence shows apple cider vinegar can improve weight loss, there are many benefits that it can provide for anyone following a Keto diet. To help make getting your ACV easier, Goli Nutrition created the world's first Apple Cider Vinegar Gummy Vitamins.
One of the biggest benefits of Apple Cider Vinegar Gummy Vitamins is the product's ability to provide a reduced glucose response to a high-carbohydrate meal or help provide extra satiety to keep the consumer from getting hungry too soon between meals. However, apple cider vinegar may also help aid in digestion or mitigate some of the effects of eating a high-carbohydrate meal while following a Keto diet. Although, it is important to ensure that cheat meals are kept to a minimum to prolong ketosis as much as possible to enhance weight loss.
As a keto-friendly and vegan formula, Goli Nutrition created this apple cider vinegar option as an alternative to corrosive shots that may affect your teeth or cause stomach discomfort. Each serving contains 3.5g of carbohydrates, making it a great addition to most Ketogenic meal plans that don't rely on processed foods. Some of the results you can expect from Apple Cider Vinegar Gummy Vitamins include:
May Aid Digestion
May Increase Fat Loss
May Boost Energy
May Strengthen Immunity
May Encourage Detoxification
In an effort to give back, Goli Nutrition partners with Vitamin Angels to donate a 6-month supply of vitamins to children in need to fight malnutrition worldwide with each bottle of Apple Cider Vinegar Gummy Vitamins purchased. If you are ready to add the power of ACV to your Keto diet, this is the most convenient and delicious way to get started. Try them today to see why they have spawned so many similar products on the market!
Keto Burn is a participant in the Amazon Services LLC Associates Program, an affiliate advertising program designed to provide a means for sites to earn advertising fees by advertising and linking to amazon.com