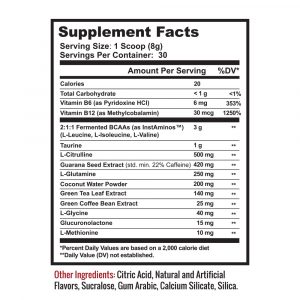 Like MCT Oil, BCAAs play an important role in a Ketogenic diet. While many neglect these popular supplements, they play an important role in the preservation and development of muscle, particularly during a diet period. Unfortunately, many keto-adapted athletes fail to utilize BCAAs and lose muscle along with fat. Muscle Research Amino Energize is a groundbreaking new product that will help maintain a steady flow of muscle-building amino acids, including BCAAs, while providing clean energy throughout your toughest workouts or the entire day.
It can seem like a struggle to find energy when on a Ketogenic diet when you are getting started. If you are tired of taking multiple supplements throughout the day just to power through your workouts and hit your target BCAA intake, Amino Energize was formulated just for you. Available in four incredible flavors, this formula is guaranteed to give you the edge you need without added calories, sugar or crash, guaranteed.
Muscle Research Formulated Amino Energize to not only provide a clinical dose of BCAAs at a 2:1:1 ratio, but they also added caffeine to help regulate energy levels throughout the day. This means that anyone focused on weight loss, building muscle or interested in enhancing their recovery periods will benefit from the optimal muscle gain and sustained natural energy that Amino Energize Provides.
Our powerful Amino Energize formula contains thoroughly-researched ingredients that boost energy, mental focus and hydration while providing the energy needed to make the most of your workouts. Even if you just need an energy boost early in the morning with your breakfast, Amino Energize is the supplement that makes breakfast more enjoyable and impactful. All with no added calories, sugar or crash, guaranteed! Some of the results you can expect from Amino Energize include:
• May Provide Natural Energy and Focus
• May Promote Body Hydration
• May Improve Muscle Recovery
• May Enhance Protein Synthesis
If you are just starting a Ketogenic diet, it can be hard to find the energy needed to work out, let alone make it through your normal daily activities. With Amino Energize, you can limit muscle loss while still getting rid of that stubborn fat. If you don't want crazy jittery stimulants but you do desire a little extra boost, this is the supplement for you. Don't lose your hard earned muscle while pursuing your weight loss goals. with this advanced Keto supplement, you can have the best of both worlds!